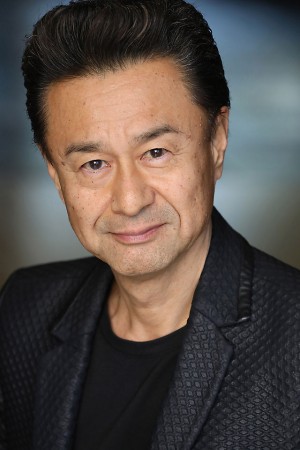 ROME in Japanese means "Dragon's Dream".  KANDA is the family name passed on to him from his comedy mentor.
Like his name, he is no ordinary man. The descendent of Samurai and Okinawan royalty, Rome Kanda is an extraordinary entertainer, and the only performer in the US with the Yamato spirit— the true Japanese spirit.
This "true Japanese spirit" is the backbone of Japanese culture and tradition. It is the substance of the samurai's spirit, which is where one would never hesitate for a moment to risk his life honorably for his master. In ancient times, this was a samurai's highest purpose, will, wish, desire, and everything that is – higher than life, which is known as kokorozashi.
Rome began to have an idea of what his mission in life would be around the time when he was 19, on a trip to London. As an avid fan of many British rock groups, it had always been a dream of his to walk the streets of downtown London. It was his first time in a western country, and culture shock had set in. He noticed that while his British friends were well acquainted with all the Japanese automobile and electronics companies, they were unfamiliar with any other aspect of Japanese culture. While he was happy in being able to discuss British and American musicians and actors with his new friends, he began to wish that they would be able to talk about Japanese entertainers with the same enthusiasm.
A few years later, Rome came across a sign in the student lounge advertising an Air Guitar contest while he was an exchange student in Iowa. He entered, and won. Rome had always loved entertaining people, but this was his first taste of success.  A few months later in Los Angeles, Rome decided to try comedy. With his impersonations of stars such as Mick Jagger, Michael Jackson, and David Lee Roth, Rome was greeted into the world of comedy with a standing ovation.
It was around this time that Rome began to realize his true calling in life.  His kokorozashi had been awakened- to create a foundation for Japanese entertainers in Hollywood. Rome strongly believes that this purpose of helping other Japanese actors will be his legacy and will live on long after he is gone.
Rome explains that this purpose is bigger than his life:
"Samurai believed that lives are granted by God- the only one who knows how long we shall live. Therefore, we should dedicate our lives to the elevation of humanity rather than caring only for the protection of our temporary lives. And this will be passed on until God's purpose is served. When the will is so strong and powerful, it can cause a drastic change leading to a revolution or groundbreaking transformation. History has proved this in the Meiji Imperial Restoration when the unwavering goal of radically reforming Japan was finally achieved, even after top-ruling leaders had failed and could never accomplish this in their own lifetimes"
His higher-than-life-spirit had been uplifted through his unspeakable experiences of interacting with extraordinary people. Between the years of 1993 and 1996, he embarked on an around-the-world-trip in search of eternal truth. His quest brought him in unbelievable direct encounters with spiritual luminaries as Indian guru Sai Baba, to Mother Theresa of Calcutta, to a Native American medicine man from the Hopi Tribe.
Since settling down in the US at the end of 1999, he has been incorporating the spirit of the samurai into everything he does.  From his personal life to his professional career, he incorporates the techniques of Japanese tradition and martial arts (Karate, Kendo, Aikido, Noh, Kabuki, Kyogen, Japanese tea ceremony and calligraphy).
Whether on stage or on the street, the samurai's spirit is always with him as he works towards fulfilling his kokorozashi, each moment of his life, with joy and with honor.
神田瀧夢(カンダ ロム)
大阪生まれ。英知大学卒業後、イギリス・アメリカに留学。19歳で世界一周の旅を決行。米国縦断を皮切りに、世界30カ国を周り、世界中の水と神に触れるための一人旅に出る。インドガンジス川下流での全身沐浴。マザーテレサとの出会い、サイババとの出会いなど、多くの経験をする。
日本では、北野武映画の処女作から「キッズリターン」までの、全ての映画に出演。日本文化を世界に発信すると「志」を立て、空手・剣道・居合道・殺陣・能・狂言・日本舞踊などを学ぶ。オリジナルの龍舞の創始者でもある。
エンターテイメントで世界を明るくするためにニューヨークに渡り、一人で160件の芸能事務所のドアを叩き、161件目にして所属事務所が決定しサインをする。2001年、ニューヨークで911を経験。ニュージャージーシンフォニーオーケストラと共に、主演パフォーマーとしてアメリカツアーなどにも出演。
ロサンゼルスで初めて出場したスタンダップコメディーショーで、拍手喝采のスタンディングオベーションを受け、ニューヨークコメディーフェスティバルでは、アメリカ人を抑え日本人コメディアンとして初優勝を果たす。
その後、全米ネットワークゴールデンタイム番組「I survived A Japanese Gameshow」の司会に抜擢される。同番組はTV界の最高賞である「ゴールデン・ローズ賞」を受賞。その後もハリウッド映画に出演するなど、目覚ましい活躍を遂げる。
日本でもマスメディアからの出演依頼が殺到。幻冬社から自叙伝「サムライスピリット」を出版。TEDスピーカーとして登壇した際の映像は、現在でも企業研修英語教材として活用されている。"NewsWeek"において「世界が尊敬する日本人25人」に選ばれる。
近年はNETFLIXの人気連続ドラマ「Maniac」で、「ララランド」主演のオスカー女優 "エマ・ストーン"や、フォレスト・ガンプの母親役で有名なオスカー女優 "サリー・フィールド"等と共演し、話題を呼んでいる。
俳優業と平行して行なっている演技指導クラスは、クラスを受けるためだけに、日本やニューヨークからロサンゼルスまで訪れる生徒が多い、人気のクラス。エンターテイメントを通して、地球に笑いとハッピーを提供し、伝え育てていく活動を継続中。